Rebranding, design & content - Marketing - Web
Industry: Retail
We at Louder Family took Polyver on a major branding journey, starting with positioning, re-branding and moving into creating device design, marketing strategy, tactics and content for all their channels.
Polyver is a Swedish company that manufactures perhaps the warmest winter boots on the market in a factory in Jämtland. They use a special technology to make shoes that keep the heat down to -40 degrees Celsius. They are light, warm, waterproof and super comfortable.

Louder Family discovered that the brand had lost its identity within both the company and the brand. Polyver had begun to lose ground. To match the company's products, goals and visions for the future, it was clear what needed to be done: Polyver needed the help of Louder Family to go do a complete re-branding.
Louder Family works with a unique branding and positioning method called 4D-branding. Through surveys in the positioning process, it emerged that people did not know what the Polyvers brand stands for. It was associated with harsh attitudes and weather, and that was not what it aspired to.

Louder Family therefore developed a new positioning to help the company reach a broader market. To do that, Polyver needed to become a brand that attracts all people, in whatever weather.

We concluded that Polyver must stand for timeless quality. The brand should promise warm, comfortable and quality products for a richer and happier outdoor life. It was also important to emphasize that Polyvers products are manufactured in Sweden. We wanted to demonstrate the quality of the products throughout the production chain with good conditions for both people and the environment.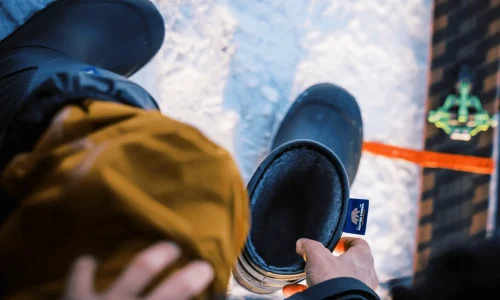 The brand also needed to work in other markets. From the Nordic countries through Germany, France, England and all the way to the USA and Russia.
Polyver needed a hard re-branding and that meant a whole new visual expression.

It was important to retain old customers and signal the origin and history of the brand. Therefore, the logo was replaced and the old symbol with a Polar Bear that used to signal harsh weather, was transformed into a warm Swedish brown bear. The name is a big part of a brand's identity. In the next step, we at Louder Family chose to rename the company: Polyver Sweden. To this was added a tagline: "Enjoy Outdoors".

The new brand uses a special yellow and blue throughout as accent colors in all design, set design, surroundings, props and costume in pictures and film. They also work with a natural-twigged paper texture that directly brings to mind nature.

The colors and texture, together with the bear and the shapes in the typography, both bring to mind Sweden and respond well to the position that the company needed to take on the market.

Polyver Sweden will be an inspiring brand, and to underline the company's roots and founding, we went on a journey through time and framed it all with: Est 2005. In connection with the launch of the brand, Polyver Sweden's new shoe model was also launched, which was named Polyver Sweden Classic Winter.
Based on the new visual identity, Louder Family developed a completely new website and e-commerce for Polyver Sweden. We have also worked actively with Polyver Sweden's social media on Instagram and Facebook, as well as with PR. As part of the communication, we created a series of films that cover different seasons, activities and inspire the target audience.
The goal was to build the brand by showing fantastic environments and situations. They take place over several seasons and transport viewers to places and reinforce their connection to the brand. The films are consistently used in all Polyver Sweden communication channels.
The new visual identity and how Louder Family has implemented it has completely exploded the brand in the market. Already two months after launch, Louder Family had made sure that Polyver Sweden had broken sales records.
We have helped Polyver Sweden to take the position it wants in the market. We have reached out with the brand on Instagram and Facebook, and also driven traffic to Polyver Sweden's new website.
Increase in direct traffic to website:
Increase in direct traffic to website:
Increase in direct traffic to website: